Myopathy, myasthenic and neuropathy syndromes are autoimmune and easily and permanently treatable please read our e-book for permanent help.
Today all forms of arthritis & pain are treatable, they are all caused by autoimmune process. Learn to turn off inflammation at the source.
Neuro Muscular Junction the meeting point of the electrical nerve by chemicals which fire the muscles. Muscles convert energy to mechanical action.
WEAKNESS; Myopathy, Anterior horn cell disease, Neuropathies, Neuromuscular transmission disease
Figure 4 The clear fibers in the figure above are myosin ATPase free and are all innervated by one ventral horn cell. The striped fibers are the ATPase rich and would look similar under a microscope. However, we want to illustrate that the ATPase rich fibers are innervated by two different ventral horn cells (a and b; hence the different orientations of the stripes)

Neuromuscular junction

A muscle fiber is activated via a nerve impulse generated by an anterior horn cell. The impulse is conducted along the nerve fiber via saltatory conduction; that is an action potential is generated at one node of Ranvier and then jumps to the next node of Ranvier where another action potential is generated. Once the impulse reaches the neuromuscular junction, voltage sensitive Ca2+ channels are opened which allow for the influx of Ca2+ into the nerve terminal. Ca2+ entry into the nerve terminal initiates the fusion of acetylcholine containing vesicles with the presynaptic membrane and the subsequent release of acetylcholine into the synaptic cleft. Acetylcholine binds to post-synaptic acetylcholine receptors on the muscle membrane. This induces an end plate potential which subsequently results in the generation of an action potential in the muscle fiber membrane (figure 5). The end result of this reaction is muscle fiber contraction.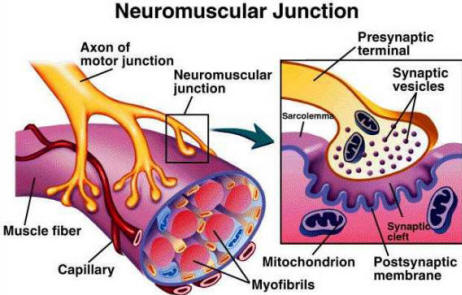 II. How Muscles Work with the Nervous System
NEUROMUSCULAR JUNCTION - where a NERVE FIBER and muscle fiber come together. A.K.A. Myoneural junction. MOTOR NEURON ENDINGS - nerve fiber caries the impulse that stimulates the muscle fibers
MOTOR END PLATE - specialized part of muscle fiber membrane (sarcolemma) located at the neuromuscular junction, has many folds
SYNAPTIC CLEFT - An actual "gap" or cleft which exits between the motor neuron endings and the motor end plate.
SYNAPTIC VESICLES - numerous vesicles in motor neuron endings, where neurotransmitters are stored before being released into the synaptic cleft.
NEUROTRANSMITTER - substance that is released from nerve endings into synaptic cleft. Stimulates an impulse. In this case, a "muscle impulse". One of the major neurotransmitters is ACETYLCHOLINE. This brings about muscle contractions. CHOLINESTERASE is an enzyme that breaks down acetylcholine

. Events in Muscle Contraction: Nerve impulse stimulates the release of a neurotransmitter (acetylcholine) from synaptic vesicles into synaptic cleft ' stimulates muscle impulse ' impulse spreads across sarcolemma and into fiber along the T-tubules ' this impulse causes an increase in the cisternae's permeability to calcium ions. The S.R. has a high conc. of Ca++. Calcium ions diffuse into the sarcoplasm ' the Ca++ causes the formation of "cross bridges"
between the actin and myosin filaments ' the filaments slide between each other ' this shortens the myofibrils which in turn shorten the muscle fibers, which shortens the muscles
"Calcium Pump" returns CA++ into the S.R. (requires energy- ATP)
Enzyme Cholinesterase stops action of Acetylcholine

IV. ENERGY SOURCE: Provided by ATP around myofibrils. ATP is produced by cellular respiration which occurs in the mitochondria (requires O2 and glucose)
* Creatine Phosphate provides energy for the regeneration of ATP
* Only 25% of energy produced during cellular respiration is used in metabolic processes - the rest is in the form of HEAT. This is what produces our body heat and maintains body temperature. More muscle activity = more heat

ATP = adenosine triphosphate | ADP = adenosine diphosphate
V: Other Terms
1. Threshold Stimulus
2. All-or-None Response
3. Motor Unit
5. Recruitment
6. Muscle Tone
7. Muscular Hypertrophy
8. Muscular Atrophy
9. Muscle Fatigue
10. Muscle Cramp

Please continue to next page Muscle