CIDP patient stories
My name is Jennifer I am first stem cell transplant for CIDP in USA.

First Stem cell transplant patient in USA undergoing this procedure.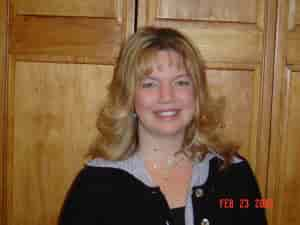 Hi, my name is Jennifer
I am 33 years old, have never been sick and in the last 2 1/2 years have been slowly declining and debilitating from CIDP. I was initially diagnosed with GBS in 11/02. At that time I was placed on IVIG which helped in reversing my debilitating weakness but quickly lost its effectiveness. I have been on plasmapheresis since 1/03. For me this has been the most effective treatment. At first when I was on inconsistent plasmapheresis series I would physically decline rapidly needing assistance for basic needs such as dressing, bathing, eating and walking. I was wheelchair bound a couple times. I went to MAYO Clinic in the Summer of 2003 and was placed on a chronic treatment planof plasmapheresis 1-2X/week since that time along with high dose immunosuppressant drug therapy. I have required 7 central lines as well as a permanent AV graft in my left arm in order to have access for the plasmapheresis. I have been hospitalized numerous times for central line infections and I have since developed subclavian stenosis. I am currently undergoing treatment for an autogolous stem cell transplant at Northwestern Hospital in Chicago, Illinois. This is going to be a long and difficult process but in the end the hope is to put me in full remission or cure me. I am the first person in the United States to undergo this treatment for CIDP and only the second in the world. The parameters that I had to meet to be a candidate for the transplant were very strict. I would like to tell my story and get the public to know about CIDP as well as the treatment that I am undergoing. I do not want anyone else to go through what me and my family have gone through with insurance, finances, and the horrible quality of life that I (we) have had during the last 2 1/2 years.

Please contact me soon and hopefully I can get back to you. I will be getting very sick from chemo etc. etc. in the next few weeks.

Sincerely,

Jennifer
Please read below for more information by Jennifer.
Another Note By Jennifer , on the research information about stem cells ....

The article on the other patient that went through stem cell transplant for CIDP was done in the Netherlands approximately 2 years ago. As far as we have heard that patient is in full remission yet today. Though I am the first one in the U.S to undergo this transplant for CIDP Northwestern has done 130 stem cell transplants for other diseases such as lupus and M.S. The statistics from those 130 transplants are: 65% are in full remission after 7 years or less, 25% are not in remission but are doing much better then they were prior to transplant and 10% are back at the same point or worse after transplant.

I will keep in touch if you request that.

Sincerely,

Jennifer;
Recent update March 7th 2015
Hello gentlemen.

You asked for continued updates on Jennifer's progress so I have a few for you. Also, I update the website on Jennifer quite frequently if you are interested. The website is: www.caringbridge.org/il/jeno

I can't believe it's been 10 years! This past week on Wednesday April 1st I celebrated my 10 year anniversary of my stem cell transplant at Northwestern Memorial Hospital in Chicago. I was the first person with CIDP to go through this procedure and it has been so successful in treating my CIDP and has provided a miracle of healing for me. I am no longer on any treatment for CIPD, and it's been this way for approximately 8 years. I have been able to return to work full time as a nurse. I recently did have a small concern, because I was having pain in my feet and mild numbness/tingling, but my neurologist examined me and I had my full reflexes and did an EMG and there was no evidence at all of CIPD. Praise God! I'm just so grateful for the new life I've been given as a result of the doctors and nurses at Northwestern as well as God's divine intervention; a life free of hospitalizations, IVIG, immunosuppressive drugs, plasmapheresis, and debilitating weakness and fatigue. Instead I am a strong, healthy wife and mother. I am so hopeful for what this treatment can do for others with CIDP. I am honored to be the pioneer for this hopeful treatment for CIDP and it is my prayer that many others will have new hope and experience healing from this terrible disease like I have been blessed with. Jennifert.