Wheelchair Guide
A Wheelchair!

A important think to remember when useing any wheel chair the small front wheel will stop rolling if any object 1/2 a inch in size comes in its path. If pushing a person and trying to clear any such object the person in wheel chair can be severely injured. So going over small object make the rear wheels go first.
Choosing a new wheelchair is not a simple task, as there are so many designs to choose from. There are Electric Wheelchairs , Folding Wheelchairs , Rigid Frame Wheelchairs and the more specialized Sports Wheelchairs. The common source of a wheelchair is from a Clinic by prescription, or from a commercial wheelchair company.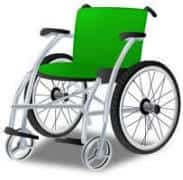 When choosing a new wheelchair, you should always try more than one wheelchair before making your final choice. Also, you should take advice from occupational and physical therapists as to which types of chair you will need.

These professionals will help advise to as to which chair would best suit your needs according to:

Level and type of disease
Age
Body Type
Physcial Endurance

When you are looking at different wheelchairs, you should keep in mind the following considerations:

How long will I be in my wheelchair?
Will I need a specialist cushion to sit on which fits the chair.?
Will I be using my wheelchair outdoors or indoors?
Will I be using my chair for wheelchair sports ?
Will I need a lightweight wheelchair or a standard wheelchair, or will I need an electric wheelchair ?

In addition to the above questions, there will also be other considerations to keep in mind such as:

Fixed frame wheelchair or Folding Wheelchair ?
Wheelchair Colour ?
If the wheelchair is electric, what is its speed ?
Wheelchair Batteries , how long do they last between charges, and what type; gel or wet batteries ?
What type of footrests, fixed, swing away, leg rests, leg elevation facility etc ?
Type of seat, can the seat be elevated ?
Does the wheelchair have armrests or a neck support ?

There are many other questions you should ask the supplier of the wheelchair as well such as:

How long has the Wheelchair company been trading ?
What warranty comes with the chair ?
Does the Wheelchair frame have a lifetime warranty ?
Would the supplier, or a supplier close to you be able to carry out a service of the wheelchair ?
If you have an old wheelchair, would the supplier consider a part exchange ?

The above will help you reach your final decision. Do not rush into buying the first chair you see, take your time, try many different designs out, and talk to different suppliers to get the best price and service.

Remember, you may be spending allot of your time in your wheelchair, so it needs to be right for you.

Earle
Thanks to earl for the excellent tips
CONTINUE TO NEXT PAGE OF ALS REVERSIABLE WITH GLUTEN FREE DIET