Avoid Superbugs at the Gym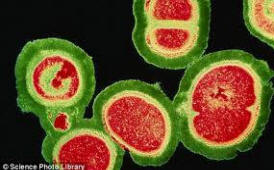 MRSA
Following a few simple rules can help people avoid catching the drug-resistant "superbug" MRSA at the gym, a physician specializing in infections diseases says.
"The real bottom line is common sense hygiene," Dr. Jorge Parada of Loyola University Chicago Stritch School of Medicine in Maywood told Reuters Health.
"It's wash your hands, wash your hands, wash your hands," along with wiping down equipment before and after using it, and keeping a towel between you and shared equipment including weight machines, benches, and yoga mats, he explained.
MRSA, a.k.a. methicillin-resistant Staphylococcus aureus, and other bugs can live on surfaces, especially warmer, wetter ones, Parada said. However, he added, the health risks of not exercising are far greater than the danger of acquiring an MRSA infection while working out. "Don't use 'I might catch something in the gym' as an excuse not to engage in healthy activities."
Hospital-associated MRSA has been around since 1961, and became a problem during the 1970s, Parada explained. Those at risk included dialysis patients, nursing home residents, and people who had to take a lot of antibiotics. "Your average Joe walking around healthy, going to high school, going to work in the morning was at very low risk," he said.
Then in 1999, the first cases of community-associated MRSA appeared. These strains developed independently of hospital-associated MRSA, and infected healthy people in the community with no known risk factors.
Usually the community-associated MRSA infections are limited to skin abscesses and boils, Parada said, but on rare occasions they can progress to pneumonia or more serious skin infections. "They've been rare, but they've been unexpected, and they've made a lot of news," he said. "That's what's driven a lot of this noise about MRSA."
At present, 5 to 10 percent of people harbor MRSA on their bodies, and the great majority of them are perfectly healthy. Parada's own research found that 7 percent of people admitted to his hospital tested positive for MRSA. "The bulk of those people who screen positive have no prior history of MRSA and are completely surprised to know that they are walking around with MRSA on their skin," he said.
The reason why some healthy people develop community-associated MRSA infections remains unclear, Parada said, although studies are underway to determine if genetic factors may be involved.
So, while MRSA could be lurking in your gym -- or on your own body -- simple hygiene is the best way to protect yourself, and others, from getting sick, according to Parada. "The real take-home message from this is, people should be much more concerned about their overall health," he said. "Getting out and doing exercise is positive."