What Is Psoriasis?
How is Psoriasis Treated?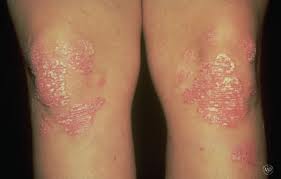 Doctors generally treat psoriasis in steps based on the severity of the disease, size of the areas involved, type of psoriasis, and the patient's response to initial treatments. This is sometimes called the "1-2-3" approach. In step 1, medicines are applied to the skin (topical treatment). Step 2 uses light treatments (phototherapy). Step 3 involves taking medicines by mouth or injection that treat the whole immune system (called systemic therapy).
Over time, affected skin can become resistant to treatment, especially when topical corticosteroids are used. Also, a treatment that works very well in one person may have little effect in another. Thus, doctors often use a trial-and-error approach to find a treatment that works, and they may switch treatments periodically (for example, every 12 to 24 months) if a treatment does not work or if adverse reactions occur.
Topical Treatment
Treatments applied directly to the skin may improve its condition. Doctors find that some patients respond well to ointment or cream forms of corticosteroids, vitamin D3, retinoids, coal tar, or anthralin. Bath solutions and moisturizers may be soothing, but they are seldom strong enough to improve the condition of the skin. Therefore, they usually are combined with stronger remedies.
Corticosteroids--These drugs reduce inflammation and the turnover of skin cells, and they suppress the immune system. Available in different strengths, topical corticosteroids (cortisone) are usually applied to the skin twice a day. Short-term treatment is often effective in improving, but not completely eliminating, psoriasis. Long-term use or overuse of highly potent (strong) corticosteroids can cause thinning of the skin, internal side effects, and resistance to the treatment's benefits. If less than 10 percent of the skin is involved, some doctors will prescribe a high-potency corticosteroid ointment. High-potency corticosteroids may also be prescribed for plaques that don't improve with other treatment, particularly those on the hands or feet. In situations where the objective of treatment is comfort, medium-potency corticosteroids may be prescribed for the broader skin areas of the torso or limbs. Low-potency preparations are used on delicate skin areas. (Note: Brand names for the different strengths of corticosteroids are too numerous to list in this booklet.)

Calcipotriene--This drug is a synthetic form of vitamin D3 that can be applied to the skin. Applying calcipotriene ointment (for example, Dovonex*) twice a day controls the speed of turnover of skin cells. Because calcipotriene can irritate the skin, however, it is not recommended for use on the face or genitals. It is sometimes combined with topical corticosteroids to reduce irritation. Use of more than 100 grams of calcipotriene per week may raise the amount of calcium in the body to unhealthy levels.

Retinoid--Topical retinoids are synthetic forms of vitamin A. The retinoid tazarotene (Tazorac) is available as a gel or cream that is applied to the skin. If used alone, this preparation does not act as quickly as topical corticosteroids, but it does not cause thinning of the skin or other side effects associated with steroids. However, it can irritate the skin, particularly in skin folds and the normal skin surrounding a patch of psoriasis. It is less irritating and sometimes more effective when combined with a corticosteroid. Because of the risk of birth defects, women of childbearing age must take measures to prevent pregnancy when using tazarotene.
ALA WEIGHT LOSS