Hearing loss in Viagra
Viagra May Cause Hearing Loss
Thursday, May 20, 2010 8:04 AM
By Sylvia Booth Hubbard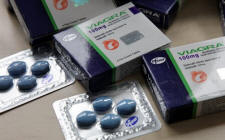 Viagra and other erectile dysfunction (ED) drugs may cause hearing loss, according to research by a University of Alabama at Birmingham professor. Gerald McGwin, Ph.D., a professor of epidemiology in the UAB School of Public Health, found there was a possibility of long-term hearing loss using phosphodiesterase type 5 inhibitors (PDE-5i), which include Viagra, Cialis, and Levitra."



The drugs have been suspected of being linked with hearing problems for several years. In 2007, following reports of sudden hearing loss potentially caused by using PDE-5i drugs, the Food and Drug Administration made changes on the drugs' labels so the risk of hearing problems was more prominent. McGwin's study is the first to evaluate the relationship between erectile dysfunction drugs and long-term hearing loss.
"It appears from these findings that the current government warning regarding hearing loss and the use of PDE-5i medications is warranted," McGwin said in a statement. "Though there are limitations to this study, it is prudent that patients using these medications be warned about the signs and symptoms of hearing impairment and be encouraged to seek immediate medical attention to potentially forestall permanent damage."
McGwin examined data on 11,525 men over the age of 40. Men who used PDE-5i medications were twice as likely to report hearing loss as men who had not used the drugs.
McGwin found the strongest relationship for men using sildenafil (Viagra) over those who used tadalafil (Cialis) or vardenafil (Levitra). But the difference, he said, could be attributed, at least in part, to the small numbers of men using those two drugs.
The drugs were created to treat pulmonary hypertension, and the relationship of the drugs and hearing may provide an explanation of how they may cause hearing loss.
"PDE-5i medications work in ED patients by their ability to increase blood flow to certain tissues in the body," McGwin said. "It has been hypothesized that they may have a similar effect on similar tissues in the ear, where an increase of blood flow could potentially cause damage leading to hearing loss.
"The results of the current study in conjunction with a plausible biologic mechanism lend support to the FDA's decision to warn patients about the potential risk posed by PDE-5i use," he said.
Experts estimate that erectile dysfunction affects 30 million Americans men. According to the National Institutes of Health, ED is a symptom of many health problems including diabetes, high blood pressure, vascular disease, and depression.